Digital, Mobile, Online Advertising Agency
We offer a wide range of digital and online advertising solutions. What you're trying to achieve (increase brand awareness, acquire new customers or retain existing customers) determines the marketing mix that would suit you best. We've run 50,000,000 ads so we can show you some examples of what works and what doesn't. We want to help you get the most out of your ad spend.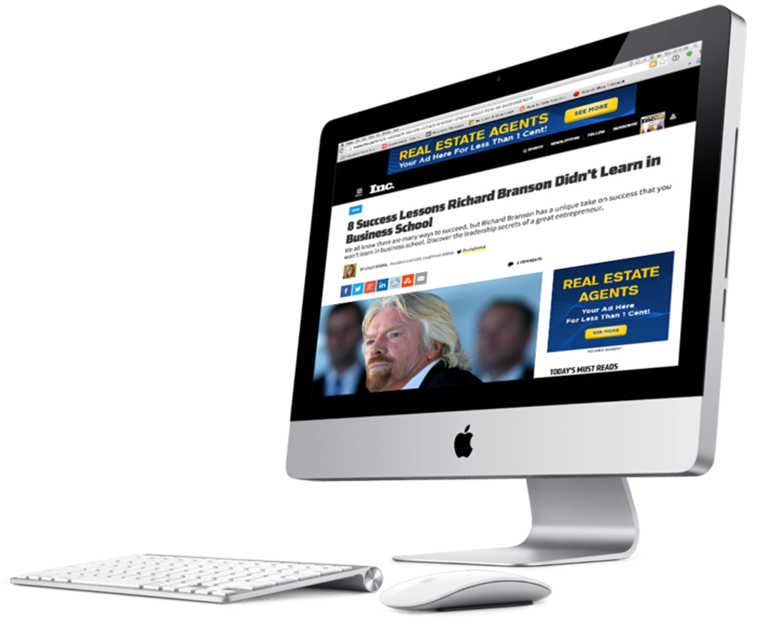 ---
Have you ever, for instance, gone to book a hotel room and then had ads for the hotel follow you all over the internet? That's called "retargeting". An even more refined method of retargeting is called "dynamic retargeting" which is when ads for specific products follow around potential customers. If done correctly, retargeting can be super effective: people are 6x more likely to purchase from a follow up ad, than they are the first time they see an ad. Let us talk you through the benefits of retargeting.
400dollarwebsites is owned by We Promote and can guarantee you a quality, simple, modern website for only $400. Impossible you say?
Click Here to find out more.
TV Synching
Dual screening is a relatively new term. You probably do it yourself! It's when you are sitting in front of your TV and browsing the internet with your smartphone or tablet. Your TV commercial starts to play and like magic your online ads appear on your target audience's device in real time. Now imagine an advertisement for a competitor's product comes on the television. Through the technology of TV synching we can make your ad that counters the competitor's ad appear on the device you are using. Sounds like witchcraft, however we can make it happen.
Potential consumers can reach your website in one of two ways
Organically through search, or via paid Google Adwords. Getting these correct can be the difference between you getting that client over your competitors. For example: 65% of all Google searches result in someone clicking on one of the top 5 entries – are you there? We Promote are experts in both SEO and Google Adwords and can keep your business ahead of your competitors on the online ladder.
Facebook, Instagram and Twitter
We're not saying newspapers are dead, but there's a whole swag of new media in town. Doesn't it make sense to put your message where your audience spends most of their time, rather than expensive, old-fashioned media that can't be targeted to specific audiences?
Possibly the biggest buzz word in the online ad space, "programmatic" is essentially auction-driven ad buying. It is extremely efficient and without peer in its ability to pair comprehensive audience data with ad inventory and targeting. Basically that means that once we define who you want to see your ad, we follow them all over the internet and show your ad to them, as cheaply as possible.
Data-driven advertising
Using data collected from multiple sources, we can target specific audiences to really fine-tune your ad budget. This technology is amazing and can drive your ad dollar further. There are lots of ways we can use data and technology to define your audience so you can show ads only to your target market. You'll be surprised how much data is available!
Direct Buy Online Advertising
While programmatic advertising is the poster child of efficiency and effectiveness there are some occasions where you may want to 'own' a site for a certain reason or period. Ask us how – we are Brisbane's Digital, Mobile, Online Advertising Agency!
A relatively new advertising medium in Australia (May 2016), Snapchat offers some very innovative ways like Snap Ads and Sponsored Geofilters to reach younger audiences. We can help you navigate these options and capitalise on the opportunities they present. Read more about Snapchat for business…
Let's Get Creative
Showing up in front of your audience is the easy part. Having them engage with you is the next step along the path to your end game. We can help you design the appropriate ad type for the mediums you select. Be it Rich Media, video or a simple banner campaign we have the solution.
In-app ads on mobile
800 apps a second are download from the Apple App Store. The scope of advertising "in app" is massive and the best bit? We can show ads with 1 metre targeting, which means that if someone walks past your retail store we can show your ad. The possibilities for this are literally endless.
We Promote: a leading Digital, Mobile, Online Advertising Agency.