In an exciting development, you can now get more email subscribers using Facebook ads. "Lead ads" can provide a new and efficient way of signing up people to your list.
We all know that adding subscribers to your email list is a high priority task. Email remains the number one way to communicate with a community – be it a group of fans, customers or stakeholders. But email lists don't grow themselves. It takes a little work and effort to get people to join your mailing list.
Facebook is now making it easier than ever with their "Lead Ads" which essentially include a short form for people to fill out. You (the advertiser) are then given the details of the person who signed up.
Never been easier to get email subscribers
The following (unfortunately low res) video shows the sequence of the form.  The user is presented with the ad in their newsfeed on their phone, their details are pre-populated in the form (our details in this example) and then they are done.  Three easy steps!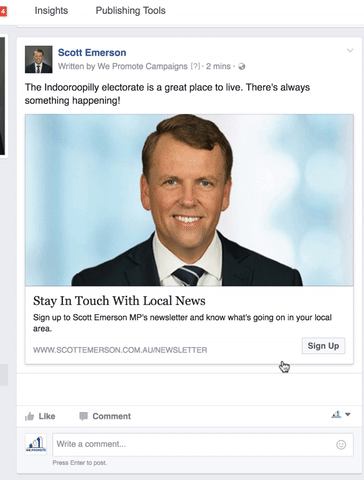 Of course, you've got to give someone a compelling reason to hand over their data.  Here are some reasons people might fill out your form:
You're giving them information (like a newsletter)
You're giving them money, a prize or a change to win
They're getting access to something valuable (like a course, or a PDF)
The user is booking into something (like an appointment)
People are joining a social cause, such a signing a petition for upgrading a train station (or whatever)
Facebook suggests advertisers might want to use this type of ad to generate leads but the secondary (and depending on your situation, more useful) function is to increase an email subscriber list.
Of course, this system is not yet at a point where the information in the form can be automatically ingested into a CRM like Sales Force, Feedback or Highrise.  In fact, it seems that you need to log into Facebook to get the data out (such as by exporting into XLS).
Why bother using Facebook Lead Ads?
The number one reason is this: people are more likely to sign up for something if the form is easy and right there in front of them.  If they have to click away, load another page and be comfortable putting their details into an unknown form, they are less likely to do it.
The easier the process of signing up, the higher the conversion!
In short, you will get more subscribers than using any other form of sign up.  At least, that's the theory.  But the stats back it up, so why not try it?
Customisable forms
We all have different requirements for the data we collect and Facebook makes that easy for us, because the forms are customisable.  Just want to collect email addresses?  Done.  Need a suite of personal information? You can do that too.
So how does it work?
When someone sees your ad they tap it, which displays a form pre-populated with info they have shared with Facebook, so they don't even need to re-enter the data. That data can be edited, of course.
Lead ads are a great way for people to sign up for things that interest them and it lets advertisers rely less on web-based sign up forms.  Most importantly, the efficiency provides an excellent mechanism to get a higher rate of subscribers onto your list.
How to get started with leads ads
Contact We Promote today and we'll be able to get you going with a lead ad campaign.
https://www.wepromote.com.au/wp-content/uploads/2018/01/wepromot-logo-4-e1516192142379.png
0
0
Reland Pigte
https://www.wepromote.com.au/wp-content/uploads/2018/01/wepromot-logo-4-e1516192142379.png
Reland Pigte
2018-01-18 08:11:37
2020-11-16 01:16:48
Get More Email Subscribers Using Facebook Ads